THE BEST SUMMER NIGHTWEAR FOR HOT NIGHTS
Summer is here and with it comes warmer nights and hopefully some holidays away! As fabulous as the sunny weather is, we all know that trying to sleep in a hot room is not ideal!
The best option in the heat is to wear as little as possible, which means it's time to treat yourself to some lovely summer nightwear!
Think cool pyjamas, cotton short sets and lightweight dressing gowns, all designed to see you through summer comfortably and without breaking a sweat!!
COOL COTTON PYJAMAS FOR SUMMER
Pyjamas are the most classic sleepwear style, and they don't have to be neglected in the summer. We may associate them with being cosy and warm, but pyjamas are still so perfect for summer sleeping.
When it comes to the best PJ sets for sleeping in when it's warm, short sets are key, and it's also important to think about what material you're going for.
Nice and breezy cotton pyjamas are always a cute shout for summer – our fave style are the classic cotton revere shorts sets.
The gorgeous pyjama sets are the summer-ready version of your fave Christmas pyjamas in a bag!
You can find the short cool cotton pyjamas in lemon, pistachio, pink spots and pink stripes – the perfect colours for summer!
They also make the perfect sets for making sure you look fabulous on those lazy summer mornings in the garden!
CUTE CAMI PJ SETS FOR SUMMER SNOOZING
Another pyjama style that is just great for dealing with hotter sleeping conditions in is a cami pyjama set!
Summer-ready cami tops paired with pyjama shorts are a match made in hot weather heaven!
We have so many fabulous cami pyjama styles, there is the perfect nightwear 'fit for everyone!
If you just can't get enough of novelty nightwear and fun slogans then you will love the Frill cotton and shorts set.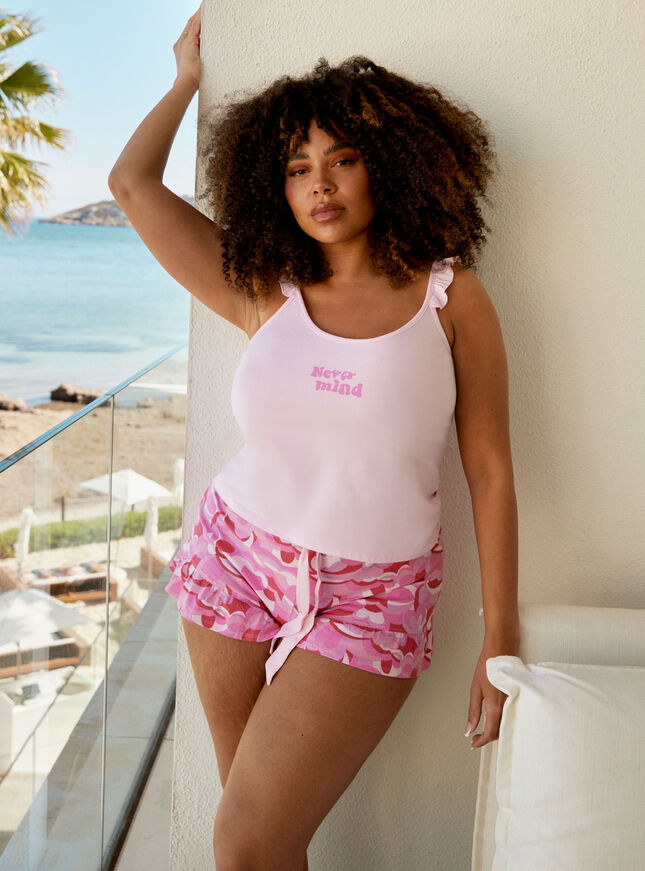 If you are still loving the regency era trends then these cotton broderie style summer cami sets will be your dream summer pyjamas!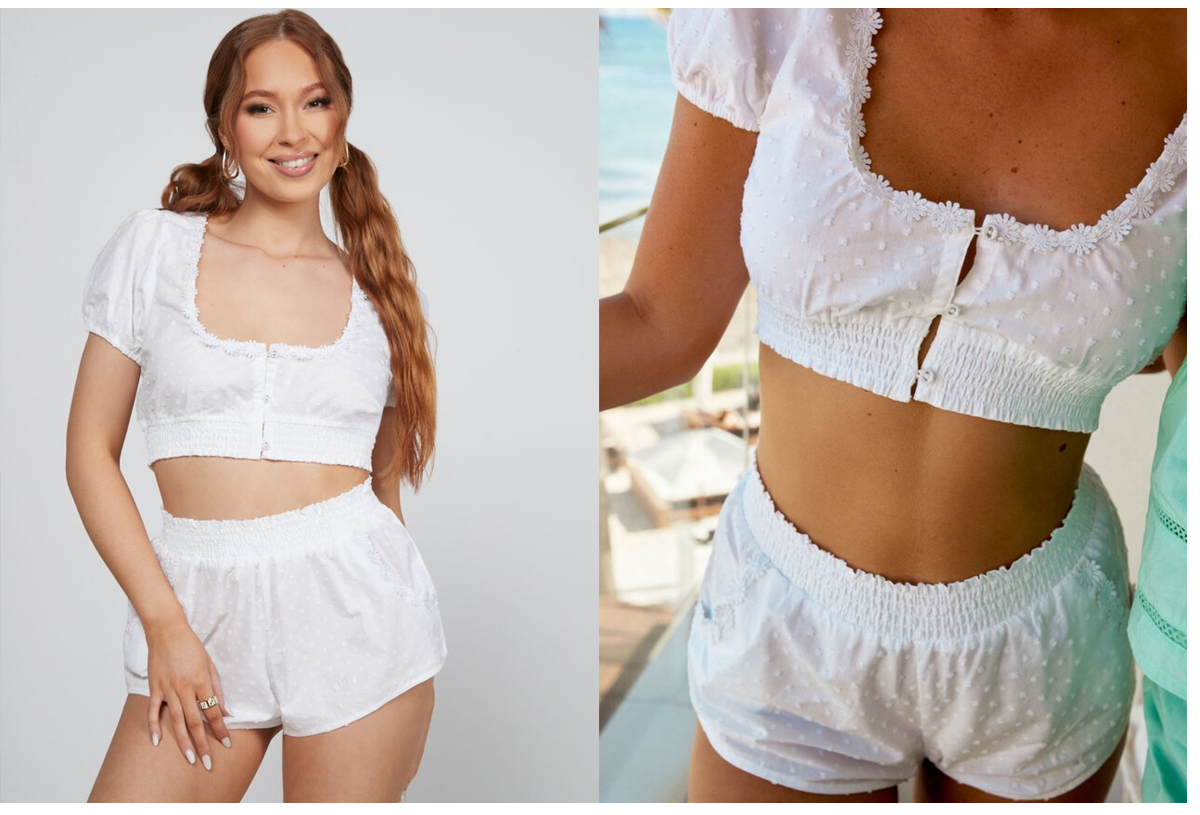 The Puff sleeve cotton top and shorts set and the Shirred frill cotton cami and shorts set could be straight out of Bridgerton!
These cotton nightwear sets are just dreamy for staying cool and feeling beautiful in! Nightwear shouldn't be boring – treat yourself to pretty pyjamas this summer!
If you prefer a pop of colour in your pyjama drawer, the Ditsy women cami set or the Daisy embroidered cami sets are for you!!
All these cool pyjama sets are made from cotton, ensuring you will stay cool in the hotter temps!
They also look amazing because our priority when creating of all our pieces is to make you look and feel fabulous, whether it's pyjama sets, swimwear or lingerie!
LIGHTWEIGHT SUMMER FRIENDLY DRESSING GOWNS
Dressing gowns in summer?! Yes! We can't quite say goodbye to wearing a lovely robe - even when the sun is beaming!
Whilst we can't say we will be wearing our fave fluffy dressing gowns over summer, there are plenty of lightweight summer dressing gowns which do the job nicely.
For a summertime glam option, the Marnie satin and lace robes are ideal – the satin material is lightweight and cool!
Whether you're wearing the Marnie robe with a chemise or pyjamas, you will look so glam and chic!
We also can't get enough of white waffle dressing gowns, especially in summer!
Choose the Lillie waffle long dressing gown for comfort whilst staying cool, plus you will so feel like you are at a spa in the gorgeous waffle material!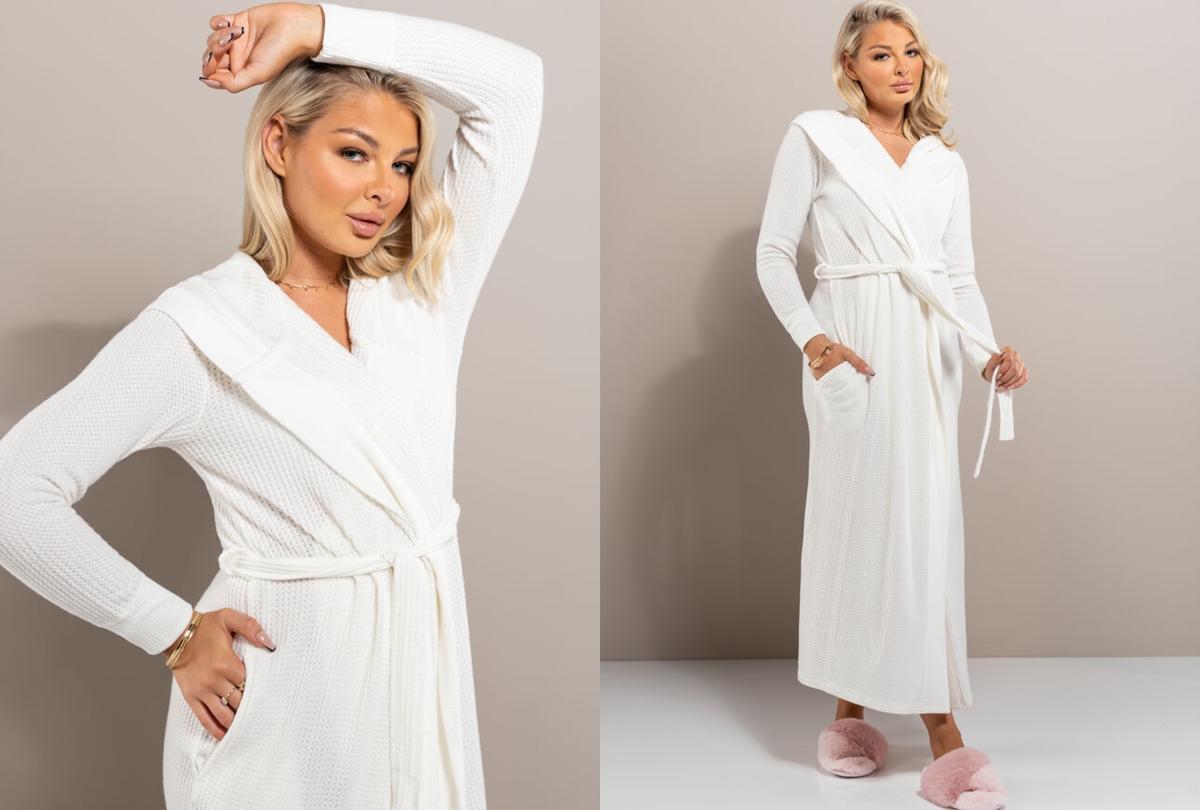 If you're going on holiday or just refreshing your pyjamas in the hope of hot weather at home, these summer nightwear outfits will be perfect for a cool night's sleep in the heat. Share your fave summer nightwear sets with us over on Insta using #myboux so we can see your 'fits!